WALK FOR LIFE 2021
Join us for our VIRTUAL Walk on Sept 20th-29th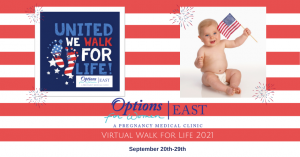 ___________________________________________________________________________________________________
Our goal is to raise $20,000 for our Prenatal Care Program
___________________________________________________________________________________________________
This walk represents the journey we take with each women during her pregnancy.
Their story may be difficult, it may be uncertain, or they may be alone so we are there to pick them up and walk alongside them.
To ensure we can continue walking alongside these women, we need you to walk with us!
_________________________________________________________________________________________________